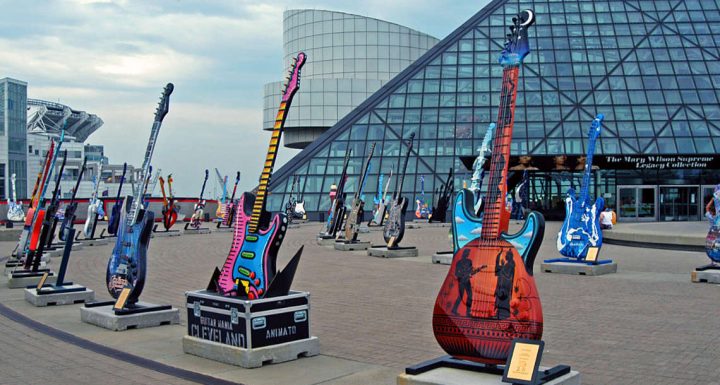 Photo: Andrew Hitchcock, CC-BY 2.0
The Rock 'n Roll Hall of Fame
Paranoia strikes deep
Into your life it will creep
It starts when you're always afraid
You step out of line; the man come and take you away.

Buffalo Springfield

There's no place for protest like the U.S. As topsy-turvy as its political scene is, when not plagued by traumatic world events, the simmering hum of unrest and civil discontent is never far from the surface. And no-where is this more dramatic than its music scene.
From the Hutchinson Family Quartet who sang for President John Tyler in 1844, which included songs of women's suffrage, prison, war and slavery, to Billie Holliday in the 1930's singing "Strange Fruit," a song about the lynching of black men, to Joan Baez, Sam Cooke, Arlo Guthrie and Bob Dylan in the 1960's who protested all things establishment, music has challenged beliefs and assumptions, helping to shed light on human suffering, misery, and injustices.
From the moment Rock 'n Roll hit the airwaves, it has also played a crucial role in political and social movements all over the world, such as: The Fall of the Berlin Wall, The Civil Rights Movement, The Vietnam War and Tiananmen Square to name a few.
An idea of Atlantic Records founder and Rhythm and Blues producer, Ahmet Ertegun, the Rock 'n Roll Hall of Fame was originally planned to be in New York. However, once Cleveland musical royalty heard the news, they lobbied for there to be a national competition. They argued that WJW disc jockey, Alan Freed, both coined the word, "rock 'n roll" and hosted the first major rock concert in downtown Cleveland in 1952 named, "The Moondog Coronation Ball." So Ertegun and his other backers put together a list of cities that were contenders: New York, Chicago, Memphis, San Francisco, New Orleans and Philadelphia. But Cleveland had a huge amount of support from musicians, such as Michael Jackson, which ultimately won the northern Ohio city the bid.
Although created in 1983, the Rock 'n Roll Hall of Fame officially opened its doors on September 1, 1995. The city of Cleveland hosted a concert for over 10,000 people to inaugurate the space aided by Bob Dylan, Yoko Ono, Al Green, Aretha Franklin, Bruce Springsteen, Iggy Pop and John Mellencamp.
The famous pyramid shaped building on the shores of Lake Erie was designed by famed architect, I. M. Pei. It boasts a combination of geometric forms and cantilevered spaces anchored by a 162-foot tower that houses a comprehensive repository of materials related to all things Rock 'n Roll.
The honored first group of inductees was Buddy Holly, Elvis Presley, Little Richard, Chuck Berry, Fats Domino, James Brown, Sam Cooke and The Everly Brothers. The first woman inducted was Aretha Franklin in 1987. Eric Clapton has the honor of being inducted three times: once with the Yardbirds in 1992, then in 1993 with The Cream and as a solo artist in 2000.
The criteria for being nominated and ultimately selected is fairly simple. 25 years after their first commercial release a performer, or performers, must have demonstrated unquestionable musical excellence and talent. Inductees will also have had a significant impact on the development, evolution and preservation of Rock 'n Roll.
There are five categories: Performers, The Ahmet Ertugun Award, (for non-performers such as producers, disc jockeys, record executive and journalists,) Early Influences, The Rock 'n Roll Hall of Fame Award for Musical Excellence and the newest category, founded in 2018, Singles. This category focuses on songs which have established a permanence and immense cultural impact on Rock 'n Roll. The first group of singles to win last year included: The Kingsmen's, "Louie, Louie," Chubby Checker's, "The Twist," Steppenwolf's, "Born to Be Wild," and Procol Harum's, "Whiter Shade of Pale."
Once the nominating committee has selected its list of artists for that year, ballots are sent to more than 1,000 historians, members of the music industry and artist-including every living Rock 'n Roll inductee. The top five performers or groups receiving the most votes win. Beginning in 2012, fans were given a chance to weigh in. The top five vote getters in a public poll equal one ballot, which is weighed the same as any other ballot.
The Hall of Fame also hosts such programs as, "Louder Than Words, Rock, Power and Politics," and Rock Hall EDU which is a free resource for teachers from around the world to help combat censorship and bring generations, nationalities and people together. "Rockin' The Schools" is a series of fine art, language arts and science technologies that host workshops to help students learn to appreciate and master musical techniques.
In addition to its large collection of Rock 'n Roll memorabilia, including handwritten lyrics, signed guitars and recordings on nearly every type of devices, the Hall of Fame also has such interesting pieces such as Lady Gaga's "meat" dress, Elvis Presley's 1975 custom made "Super Trike," and remnants from the crashed airplane of Otis Redding circa 1967.
"War, Children, It's Just a Shot Away," sang The Stones in the 60's. Songs used to protest the Vietnam War include such artists such as Marvin Gaye, Crosby Stills Nash and Young, and John Lennon. Farm Aid, which to this day is the longest running benefit concert series in the U.S., started in 1985 with John Mellencamp, Willie Nelson, Neil Young, Roy Orbison, Tom Petty and Bonnie Raitt headlining an all-star cast. Continuing every year since, Farm Aid has raised over 48 million dollars to help those in need.
Meanwhile, back in the UK, U2 released, "Sunday, Bloody Sunday and Midnight Oil was defending the Australian Pintupi lands with "Beds Are Burning." Later on, Pussy Riot was shaking up Russia and Die Toten Hose, a German band, hosted a concert in Chemnitz in 2018 to plead for solidarity and argue against anti-racism. And beside the numerous and ongoing protests since Donald Trump was elected president, San Francisco just held a weekend festival to protest Trump's immigration policies by posting a huge card that was sent to "The World" saying, "We will not give up on love, Signed, America."
Most music is timeless and resonates with those that hear it no matter how long ago it was written. Perhaps that's why, despite insufferable governments, the political system and the tired machine that keeps on churning out insanity, we must carry on and vote, sing out loud and keep on protesting.
As Bob Dylan aptly puts it,
Come senators, congressmen
Please heed the call
Don't stand in the doorway
Don't block up the hall
For he that gets hurt
Will be he who has stalled
There's a battle outside
And it is ragin'.
It'll soon shake your windows
And rattle your walls
For the times they are a-changin'.

Bob Dylan
Do you like this article? Please support SCHLAGLICHTER!